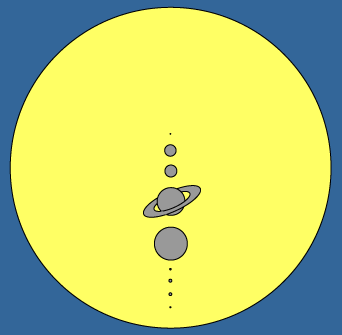 Our Holiday Bible Club on creation set me thinking about the size of planets adn their relative distances.
Clyde W. Tombaugh, the discoverer of Pluto, had a famous model. For scale, the Earth's polar diameter of 7,900 miles is represented by one inch. So

The Sun is 9 feet in diameter.
Mercury is a pea 385 feet away.
Venus is a one-inch ball 700 feet away.
Earth is a one-inch ball 970 feet away.
Mars is a half inch marble 1,470 feet away (1/4 of a mile).
Jupiter is a ten-inch ball 5,030 feet away (approx. a mile).
Saturn is a nine-inch ball 1.67 miles away.
Uranus is a four-inch ball 3.5 miles away.
Neptune is a four-inch ball 5.5 miles away.
Pluto is a pea 7 miles away.
The total solar system fits within a circle 14 miles across.